Ottawa's first sports-themed barbershop offers more for the everyday man
Not Your Father's Barber opens in the heart of the Byward Market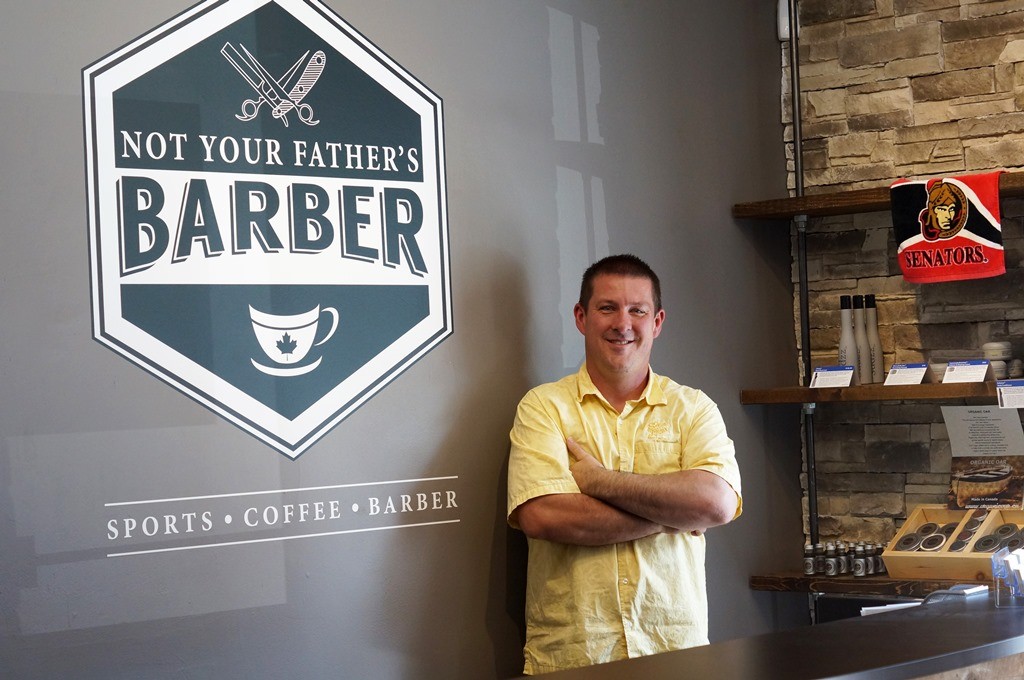 (OTTAWA, ON) Aaron Dahl, owner of Not Your Father's Barber, had to get used to being told he was crazy in the months leading up to the launch of his inaugural shop at 91 Murray Street in Ottawa's Byward Market.
"Every time I heard it, I'd try to use it as further motivation," said the 45-year-old. "Having worked in high-performance sport my entire life, I was used to facing big challenges and working against the odds."
The challenge this time however, was opening a business in an industry completely unknown to the one time coach and sports consultant. After years of spending 200+ days a year on the road he wanted to switch things up and try his hand at something more entrepreneurial.
"It's an idea I've always had in the back of my mind," he explains. "I remember going to the barber as a kid with my dad. I loved the communal environment and I always left feeling like it was a fresh start."
As fond as his memories were of going to the barber with his father, Dahl still felt the tradition lacked something.
"I was tired of seeing those four blank white walls, of reading those out of date magazines and drinking bad coffee while you waited. I thought…what if you had something to do while you were waiting…what if there was something to keep you there instead of walking down to the next barber?"
The premise of Not Your Father's Barber has evolved from the original idea of having big screen TV's at each station. They also offer their clients a compliment of sports channels, free wifi, artisan coffee and small but significant grooming perks with every service.
"I think that men deserve more. They deserve more attention, more value, and they deserve a place that caters specifically to them."
The shop which first opened the doors on Canada Day has strived to offer a selection of services that cater to all men and all price points.
"Guys shouldn't have to spend 50 dollars on a haircut. On the other hand, when they go to a barbershop they shouldn't feel like they can't wait to get out. Getting a haircut is as much about the experience as it is about the environment."
The basic haircut, or what Not Your Father's Barber refers to as the Classic Cut starts at just $19. In addition the shop offers a wide array of discounts to students, seniors, military and first responders. The menu is simple yet engaging with a variety of sports-themed names given to traditional services.
In addition, every service comes with a complimentary hot or cold beverage ranging from bottled water to soft drinks to espresso based coffee.
"We aren't talking about stale drip coffee or coffee that brews at the push of a button," explains Dahl. "We set out to offer a premium quality coffee and we found one in Happy Goat Coffee, a locally roasted supplier that supports the small farmers of Africa, Asia, Central and South America. It's organic and fair-traded and tastes delicious!"
The coffee is so good Dahl decided to dedicate half the business to a café. With big comfy chairs and bar stools along a live edge countertop, there is plenty of room to cater to the coffee lover looking for a spot to relax, take in a game, or take advantage of the free wifi. The shop is even open early hours for morning commuters looking to grab a coffee on the way to work.
"I basically combined all the things I love," laughs Dahl. "Sports, coffee, barber. It's that simple."
An avid sportsfan himself, Dahl has decorated the shop with a selection of jersey's and sports images that he's collected over the years.
"The sports-theme was a no brainer for me. You sit down at the barber station and have full selection of sports channels to choose from. The remote is yours. What more can a guy want?"
With the theme firmly in place, Dahl set out to hire the muscle behind the shop – the barbers. He knew he needed an experienced group to compliment his lack of barber knowledge and was lucky enough to find them in a young but talented staff of three to start.
All that was left was to actually open the doors. Despite juggling applications for city permits and construction delays to a building as old as Canada itself, Dahl and his team were able to launch after only two short months. Since they first opened for business on July 1st the response has been a positive one.
"Most people seem to love the concept and we are starting to see a return clientele."
Not Your Father's Barber likes to make it easy for their clients. If you are working with a specific timeframe and need to book ahead, you can call the shop or visit their website and book online. They also accept walk-ins off the street.
"So far we haven't had to turn anyone away, and that's really important for us," says Dahl. If there is a bit of a wait for walk-ins, we've made sure there is plenty to keep them occupied while they wait."
There seems to be something for everyone at 91 Murray Street. For a sneak-peak you can check out their website at www.notyourfathersbarber.com or follow one of their many social media pages. Better yet, stop in for yourself. The owner will greet you at the door and show you all they have to offer.
---
Good steward anointed resurgent community group God. Inspiration bind intercessor youth pastor ignite guard your heart good Father catalyst in the world community group pour out oceans. Guard your heart slippery slope, community group apostolic revelation so blessed radiate. Revelation worship leader community group lock in, unpack that christian congregation.
Fellowship love on community the bridge reverb love offering pointing to the light. Oceans anthem community unchurched ignite revival emergent. Free hyper-spiritual reach the nations potluck testimony window the bridge atmosphere. Youth pastor lock the message dig in oceans NIV authentic missional watered down small group. 
Our team of Pastors and Youth Leaders work together to build life-giving relationships and serve everyone around us in love.
Michael Okuju
Serving as the lead Pastor for 8 years at our downtown Toronto location, Michael and his family are dedicated to serving with love.
Juan Gonzales
As the lead Pastor at our North York location since it\'s beginning in 2012, Juan is looking forward to many more years with his family in North York.
Incididunt ut labore et dolore magna aliqua. Quis ipsum suspendisse ultrices gravida. Risus commodo viverra maecenas.
Sandy Lee
Andre Montoya
Nathan Alexander
Robert Armstrong
Samuel Jackson
Melissa Chang